Enterprise Resource Planning (ERP)
ERP
Enterprise resource planning (ERP) is a software system that helps you run your entire business, supporting automation and processes in finance, human resources, manufacturing, supply chain, services, procurement, and more. ERP stands for enterprise resource planning, but what does ERP mean? The simplest way to define ERP is to think about all the core business processes needed to run a company: finance, HR, manufacturing, supply chain, services, procurement, and others. At its most basic level, ERP helps to efficiently manage all these processes in an integrated system. It is often referred to as the system of record of the organisation.

we offer
Our Enterprise Resource Planning (ERP) Solutions provides a comprehensive software solution that covers all aspects of a company's functions, such as sales, production, purchasing, inventory management and more. This cost-effective product will streamline business processes and allow companies to grow. their market share. Contact our experts for more information about how to get the best ROI on your investment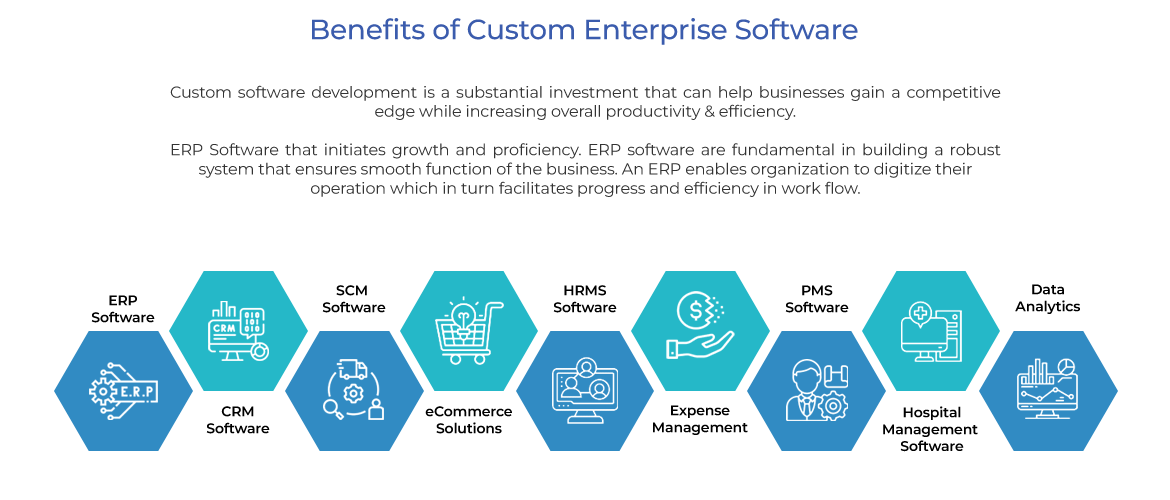 ERP System Work
ERP systems work by using a defined, standard data structure. Information entered by one department is immediately available to authorized users across the business. This uniform structure helps keep everyone on the same page. For example, say a local food distribution chain has multiple locations that often share stock and personnel. As quality, sales and employee data from these sites is fed into the ERP system, it's formatted to indicate which location it comes from.

Real-time data is then woven into business processes and workflows across departments. Leaders can see if one location is doing significantly better at avoiding spoilage than a sister site a few towns over and work to figure out why, while operations can make sure staffing levels align with traffic patterns. Finance can compare sales to rents to help executives decide whether to consolidate.

ERP systems deliver the most value when a company has modules for each major business function and ensures timely, accurate data entry. And, the more stakeholders have access, the better.

When a company uses business systems from multiple vendors, integrations are generally possible to make data automatically flow into the ERP. This real-time data can then be used throughout the ERP instance to benefit any process or workflow.
ERP Modules
An ERP comprises a number of different modules — bundles of features tailored for various aspects of the business, including back- and front-office roles. This goes well beyond financials and other fundamental functions like supply chain management and customer communication. Here's a quick breakdown of the most widely used ERP modules: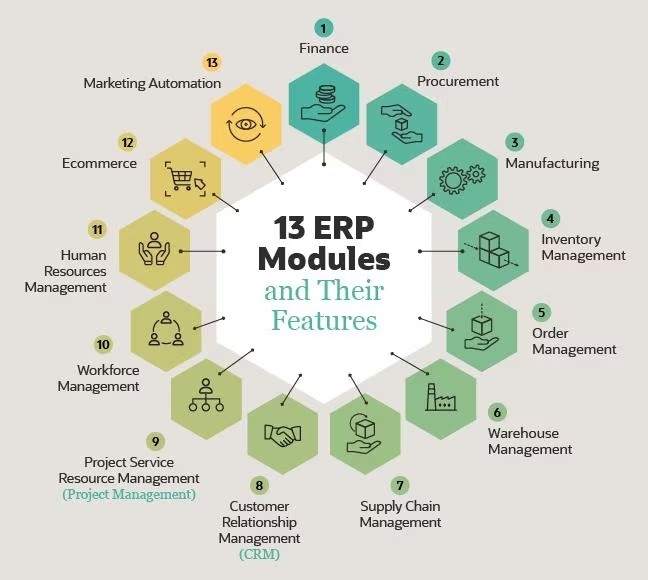 Warehouse management.
A warehouse management module directs warehouse activities like receiving, picking, packing and shipping. It can generate time and cost savings in the warehouse by identifying more efficient ways to execute these tasks.
Professional services automation (PSA).
Services businesses often utilize a professional services automation (PSA) module to plan and track projects, including the time and resources spent on them. It can simplify client billing and encourage collaboration among staff members working on a project.
Human resources management (HRM).
A human resources management (HRM) or human capital management (HCM) module is similar to a workforce management module. It keeps employee records with detailed information, like available PTO and performance reviews, and can tease out workforce trends in various departments or demographics.
Marketing automation.
This module manages marketing efforts across all digital channels — email, web, social — and enables organizations to optimize and personalize their messaging. A marketing automation tool can boost leads, sales and customer loyalty.
Finance.
A finance module, the foundation of just about every ERP system, manages the general ledger and all financial data. It tracks every transaction, including accounts payable (AP) and accounts receivable (AR), and handles reconciliations and financial reporting.
Procurement.
The procurement module manages purchasing, whether raw materials or finished goods. It can automate requests for quotes and purchase orders and, when linked to demand planning, minimize overbuying and underbuying.
Manufacturing.
Manufacturing can be complicated, and this module helps companies coordinate all the steps that go into making products. The module can ensure production is in line with demand and monitor the number of in-progress and finished items.
Inventory management.
This application monitors and prioritizes customer orders from all channels as they come in and tracks their progress through delivery. An order management module can speed fulfillment and delivery times and improve the customer experience.
Order management.
An inventory management module shows current inventory levels down to the SKU level and updates those numbers in real time. It also measures key inventory-related metrics. Any products-based company needs this module to optimize stock on-hand based on current and forecasted demand.
Customer relationship management (CRM).
CRM is a popular module for businesses in a wide range of industries. It tracks all communications with clients, assists with lead management and can enhance customer service and boost sales.
Workforce management (WFM).
A workforce management (WFM) module keeps track of attendance and hours worked, and some can also manage payroll. This tool can record absenteeism and productivity by department, team and individual employee.
Ecommerce.
An ecommerce module allows retailers and brands to manage the back- and front-ends of their online stores. They can change the site look and feel and add and update product pages with this application.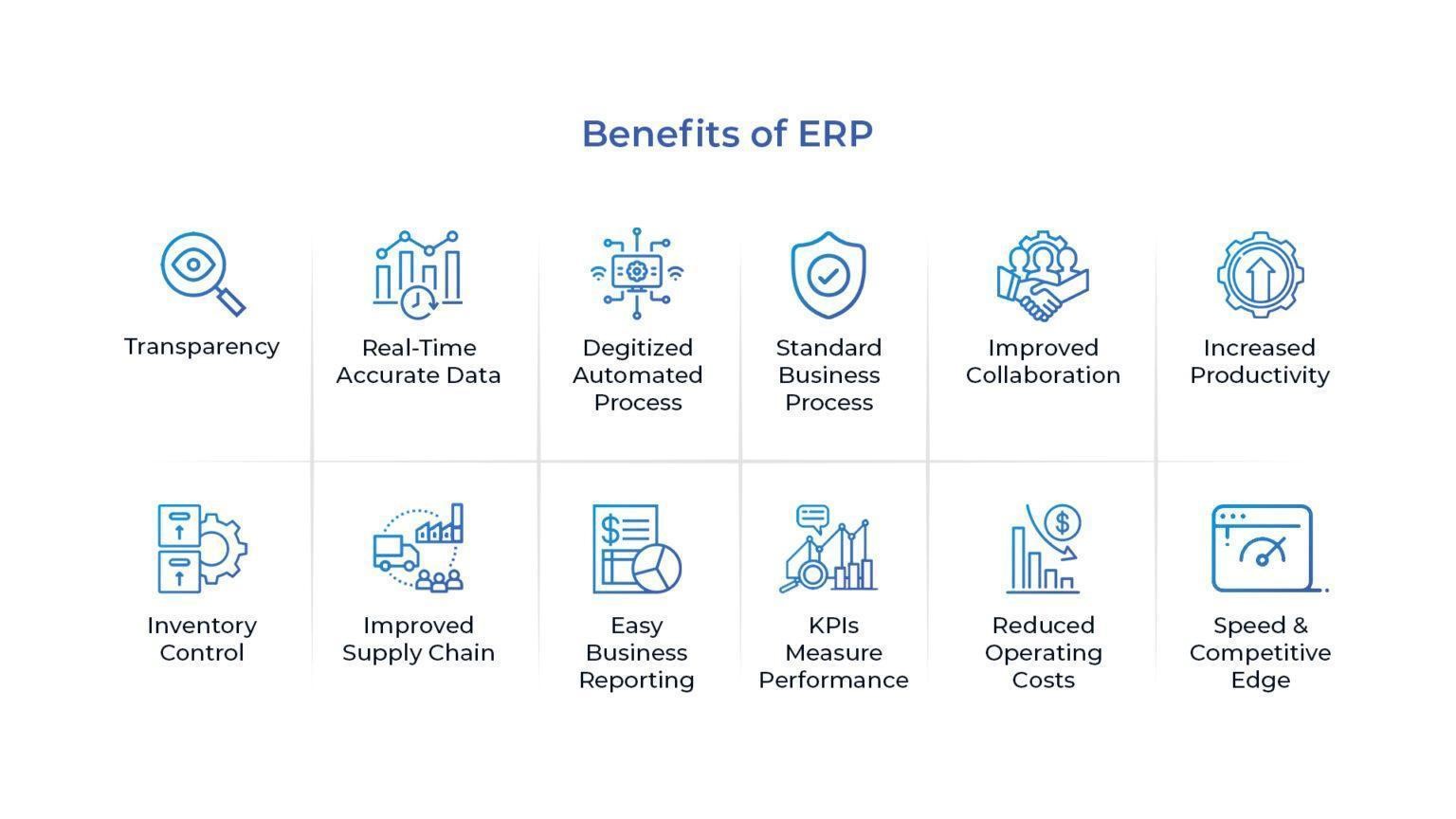 How Can ERP Improve or Help a Business?
ERP enables companies to identify areas of the business with room for improvement or opportunities for expansion. User uptake is key: The more employees with access, the more likely teams will spot problems, whether a spike in demand for a certain product, late shipments from a supplier or an impending cash flow crunch. Employees can then proactively mitigate the issue to the extent possible.

Executives are generally focused on outcomes — using information to achieve objectives, like increasing efficiency, reducing costs and responding to changing consumer needs or market conditions.

For business units, ERP software can automate many error-prone tasks, like account reconciliations, customer billing and order processing, and provide the information teams need to operate more efficiently.

But the real beauty of ERP is that it can give both a 10,000-foot view of the company's health and detailed insights into a specific process or KPI by not only storing and organizing data, but identifying patterns and flagging anomalies that require investigation. Try that with a spreadsheet. Other business upsides:
Access to data from anywhere:
Employees no longer need to shuffle through piles of papers or files scattered across a desktop. With cloud-based ERP, a warehouse manager can log in from a mobile device while on the shop floor, or a salesperson can check inventory while at a customer site.
Information is always up-to-date:
Because the ERP system is continually receiving information from various departments, it's updated immediately as inventory is pulled, a payment is posted or emails are sent to customers. This provides a major advantage because decision-makers are basing their choices on up-to-the-minute data.
Business decisions based on the same data:
With a common database, all decision-makers are on the same page. There are no duplicate or conflicting sources of information, and companies have the ability schedule and distribute dynamic reports automatically. Need more depth? Underlying data can be accessed simply by clicking the report.